Venue of the Conference
In 2024, the conference will take place at the campus of Mendel University in Brno.

Traditional Conference Venue
Campus of Mendel University in Brno, Zemedelska 1, Czech Republic
 

Building Q 

Faculty of Business and Economics

Mendel University in Brno

 

Contact

Research Centre of FBE

tel: +420 545 132 556

e-mail: ecos@mendelu.cz
Faculty of Business and Economics (FBE)
The FBE has provided all levels of university studies for almost 60 years now. We follow the most up-to-date trends in education and currently cater to 3 000 undergraduate and postgraduate students. It is our priority to offer study programmes which will enable our graduates to use opportunities and find employment throughout the European labour market. We have achieved significant results in research and development in accordance with the scientific policy of the Czech Ministry of Education as well as independently.
Faculty has attained a 'Group A' listing in the latest accreditation process in the Czech Republic, which ranks our Faculty amongst the best schools of business and economics (numbering 21 in total) in the country. Faculty was also rated as "The Best Faculty of Economics in Moravia region" in rating of the best universities in Czech Republic in 2010 and 2011. In same rating was faculty rated as a third best economics faculty in Czech Republic.
Mendel University in Brno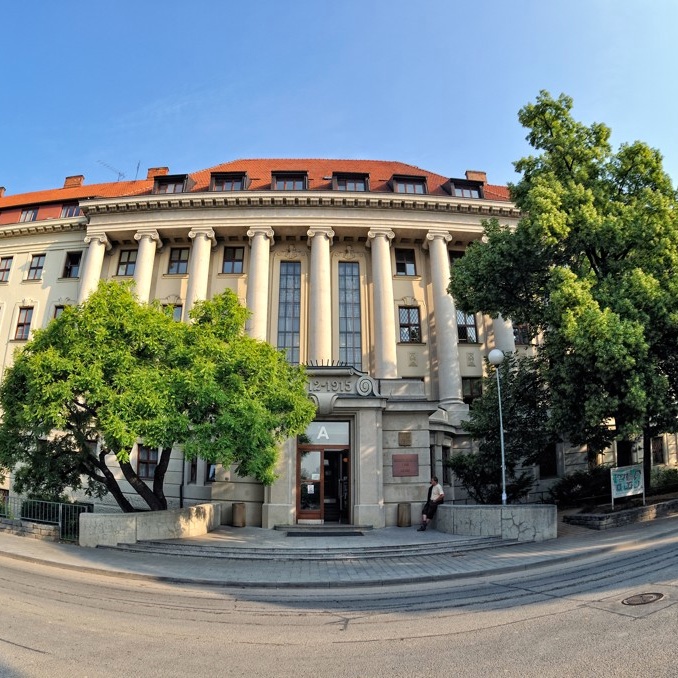 Mendel University in Brno is a public higher education institution financed by Ministry of Education, Youth and Sports in the Czech Republic. It was established in 1919. The establishment of the university crowned the many-year efforts to found an agricultural university in Moravia, which has always been one of the most advanced agricultural areas in central Europe. The university has gone through a number of changes in the organizational structure as well as in the content of its study and research during its existence and has prepared dozens of thousands experts for professions in various sectors of national economy. Mendel University in Brno (MENDELU) consists of five faculties and one university institute: Faculty of Agronomy, Faculty of Forestry and Wood Technology, Faculty of Business and Administration, Faculty of Horticulture, Faculty of Regional Development and International Studies, and the Institute of Lifelong Learning. The Faculty of Horticulture is located in Lednice and all the other faculties are situated in Brno. At present, the student population of the university amounts to 8 900 out of which 1 780 are international students.
Mendel University in Brno consistently responds to changes in national and international environment and adapts the content, forms and methods of education to these changes. Those interested in studying at MENDELU can choose from 32 accredited fields of study in Bachelor's programme and 37 fields of study in Master's programme. The offer includes such attractive study fields as Agroecology, Biotechnology, Plant Health Care, Road Transport, Horse Breeding and Agro-Tourism, Waste Technology, Food Technology, Regional Development, Design and Production of Furniture, Biotechnical Landscaping, Forestry, Economic Informatics, Tourism, Public Administration, Finance, Garden and Landscape Architecture, Viticulture and Winemaking, Horticulture, Technical Expertise and Insurance, plus a number of others. The best graduates from the Master's programme can continue in the Doctoral study. Those who may be interested in the combined form of study (study for people who are employed) can choose from 15 study fields in Bachelor's programme and 9 fields of study in the connecting Master's programme.
Czech Republic and Brno 

The Czech Republic is a landlocked country in Central Europe. The country is bordered by Poland to the north, Slovakia to the east, Austria to the south, and Germany to the west. The Czech Republic is a member state of the European Union, NATO and it is a part of the "borderless" Schengen Area. The Czech Republic enjoys a temperate continental climate with warm summers and cool winters. It is famous for its excellent beer. Fine wine and traditional cuisine are other gourmet products of the country. The population of the Czech Republic is over 10 million people.
Brno, the Czech Republic's second largest city, has a population of nearly 400 000 people. Brno is a university city – there are 13 higher education institutions, boasting as many as 36 faculties and buzzing with more than 80,000 students. Brno offers all the services and cultural events as other big, modern cities. However, Brno offers all that in a more relaxed atmosphere, as compared to some of them. 
It lies in the central part of Europe and within its two hundred-kilometre radius there are other important European capitals: Prague, Vienna and Bratislava. The international airport in Brno serves regular flights. Brno is the metropolis of Moravia and an important tourist centre for all who want to explore the natural and cultural beauties of the South-Moravian region.  To the north of Brno there is the protected area of the Moravian Karst (Moravský kras) and to the south stretch the Moravian vineyards with their typical wine cellars. The city is surrounded by beautiful mixed forests, which offer many opportunities for tourism and cycling. 
Brno is situated in a picturesque countryside at the crossroads of ancient trade routes that have joined the north and south of Europe for centuries. Brno prides itself on many notable historic sites that show evidence of its rich cultural history. Once established as a settlement of merchants eight centuries ago on the junctions of the rivers Svratka and Svitava, it withstood the pressure of both the Hussite and Swedish besiegement, witnessed Napoleon's military expedition to Slavkov, bore the cruel consequences of the Austrian defeat at the Battle of the Three Emperors, became an industrial centre of the Habsburg monarchy called "the Austrian Manchester" and, in the twentieth century, gained a character of a modern city thanks to the construction of new buildings in the functionalist style. 
The most important example of modern architecture in Brno is Villa Tugendhat – a historic site inscribed on the UNESCO's World Cultural Heritage List. The Villa of Greta and Fritz Tugendhat, designed by the architect Ludwig Mies van der Rohe and built in 1929–1930, is a monument of modern architecture.
Today Brno is a seat of universities and important judiciary institutions. It offers many possibilities of cultural enjoyment in its numerous theatres, museums, cinemas and clubs. The Brno Exhibition Centre with its ninety-five-year tradition is a venue of many international trade fairs, exhibitions and congresses, and as such plays a significant role in the social and economic life of the whole city. The City of Brno regularly holds various cultural events, festivals as well as some notable sporting events. Brno is also a city of modern shopping and entertainment centres. Brno is also the largest city in Moravia and a seat of regional government.
Thanks to its location between the woody Bohemian-Moravian Highlands and the winegrowing Southern Moravian Lowlands, Brno enjoys a very pleasant, moderate climate, ideal for day-to-day living as well as various forms of recreation. The public transport system in Brno is very efficient and simple to use and consists of trams, trolley buses a city buses, the latter of which operate 24 hours a day, 7 days a week.
 Further informations about Brno sights can be found on Czech Turism website or Go to Brno website.
Important Dates
02.10.2023 Registration start
04.12.2023 Session Proposals
04.12.2023 Early Registration and Paper Submission Deadline
13.12.2023 Early Acceptance
21.12.2023 Early Payment
15.01.2024 Standard Registration and Paper Submission Deadline
24.01.2024 Standard Acceptance
05.02.2024 Standard Payment
21.- 22.3.2024 The Conference